Our Journey…
Before the Bell Tower was initiated, there had been a number of government funded youth centres in the city, which were forced to close due to the cutbacks to the statutory youth services. This left a huge gap in generic after school youth provision in Chichester. After extensive reasearch carried out in local schools during 2013, the Bell Tower was launched in order to meet this need.
The project was founded and launched in 2014 as a joint venture between local Churches, the University of Chichester and the Chichester Cathedral, following extensive reasearch that showed a lack in daily after school youth provision, after previous government funded youth centres in the city had to close due to cutbacks to the statutory youth services. We are supported entirely through grant givers and individual donations and operate through a diverse team of local volunteers.
Mission Statement …
To provide a safe space for secondary school aged young people after school finishes
To provide a place to chill out and socialise
To provide assistance with their homework

 

To provide non-profit priced snacks and refreshments
To offer a wide range of activities including internet access, music and gaming
Vision …
The primary vision of the project is to create a safe, welcoming and relaxed space in the centre of the city through the ongoing development of the drop-in centre service, currently located in the basement of the Chichester Cathedral Bell Tower. The centre is open every week day after school between 3:00pm to 5:30pm, free of charge to all secondary school children.
While attending, the young people can enjoy gaming, use of internet terminals, movie viewing, group activities and get help with homework, as well as joining our young leadership development programme. The Bell Tower project also works into local secondary schools including the running of assemblies and detached youth work during lunchtime periods.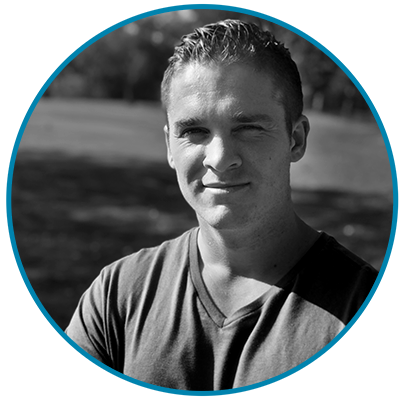 – Sam Harding
Project Coordinator
Our Journey So Far…
The Bell Tower Youth Drop-In Centre opened in late 2014 and continues to succeed in achieving the original purpose of providing a safe place in the city for local young people, while continuing to grow and develop in a number of new areas. One of the main objectives of the first two years of operation has been to make the project sustainable for the years to come. We have now achieved this greater stability through successful fundraising, community support and new partnerships and look to extend the impact and accessibility of the service we provide.
Each young person we encounter have their own specific needs and challenges. Our commitment is to recognize each individual, make a connection with them and be there to support them, be it through long term relationship building and encouragement, or working to directly shape them through engagement in our more focused initiatives.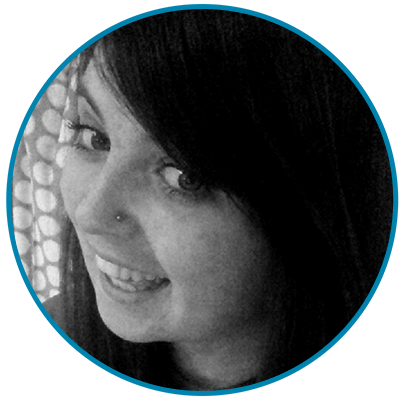 Elaine Jane-Martin - Team Leader
---
I first got involved with the Bell Tower after hearing about it at a church lunch event and volunteered myself - as I'm prone to doing! I heard that the project was recruiting volunteers and being a history student at the University of Chichester, I find that I have quite a lot of free time, so after a taster session, I thought I'd get stuck in! I found the atmosphere of the Bell Tower super awesome and feel it's a wonderful place for local children to come and relax or do homework.
Not only do I feel I've been able to give my time and knowledge to help them, but I have found that the children were willing to impart their knowledge to aid me with my academic work too!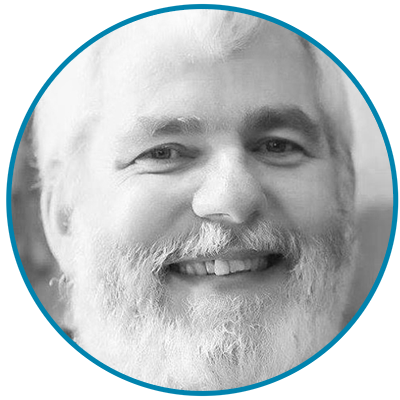 Mark Ingamells - Team Leader
---
I've been involved with the Bell Tower since the beginning, when Rachel Wheeler who launched the project invited me to join the team. It was great to have Rachel's charisma and passion to help get the project off the ground and since Sam took over, resourcing the project and securing longer-term sustainability became the focus. The project seems to have achieved this stability not only financially but also through local support and volunteers. However, we are always on the look out for more to join the team! It's always hard to predict how many young people will join us for an afternoon, though recently numbers have soared with 20 to 30 young people coming through the doors each afternoon.
Young people will often come and go multiple times during an afternoon session, but we are pleased to provide somewhere safe and familiar for them to relax for as long as they need be it 10 minutes or an entire afternoon. No two sessions are alike at the Bell Tower. We have had difficult afternoons, with some destructive behaviour, followed by more rewarding sessions when young people open up about their lives and struggles and can receive support.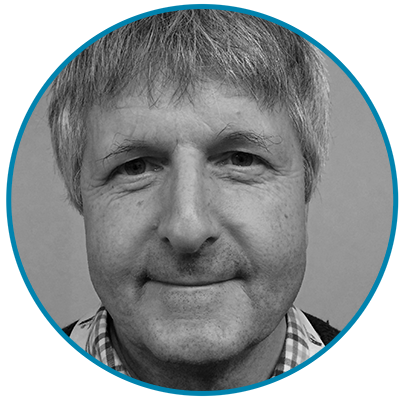 John Workman - Volunteer
---
I first heard about the Bell Tower project through the Cathedral community committee of which I am a member. I have always thought that this is an important project and when I heard that volunteers were needed I contacted Sam and came along for a taster session. I have now been involved at the Bell Tower for nearly two years. I think that the Bell Tower Drop-in is a valuable resource as it allows the churches to provide a much needed service to the young people of this city where youth services provided by the local authority have been drastically cut in recent years. It provides a safe place for secondary school pupils to go after school and I have seen the number of young people using the Bell Tower grow in my time as a volunteer.
I enjoy working with young people and I hope that I will be able to increase my time commitment as a volunteer later this year. I look forward to being involved in the continuing development of this project as I believe that we have a valuable resource that can enable us to increase our outreach work to the young people in our city.
Brian Wingate - Volunteer
---
I had previously worked for 'The National Kidney Research Fund' in the Brighton area on commission. After recently retiring from full time work I soon became very unhappy, so I decided to find a new role. I first approached the Drop In Centre on the 29th Feb 2016 when I popped my head through the door to see what was going on. After a chat about the work of the Bell Tower, I decided I would like to volunteer and my first shift was in March of that year.
Volunteering on a regular basis gave me my interest in life back again and is something I really look forward to. I very much enjoy helping school pupils so I also help out as a volunteer at The Children's Society two days a week in the office. I really enjoy helping at the Bell Tower Lunch Club on a fortnightly basis at Chichester High School as well as volunteering in the afternoon drop-in sessions.
General Statistics
Each year, we produce an annual review infographic which documents key statistics and figures alongside the various operations, developments and initiatives. Feel free to take a look at how our work has developed over recent years.
Statistics 2017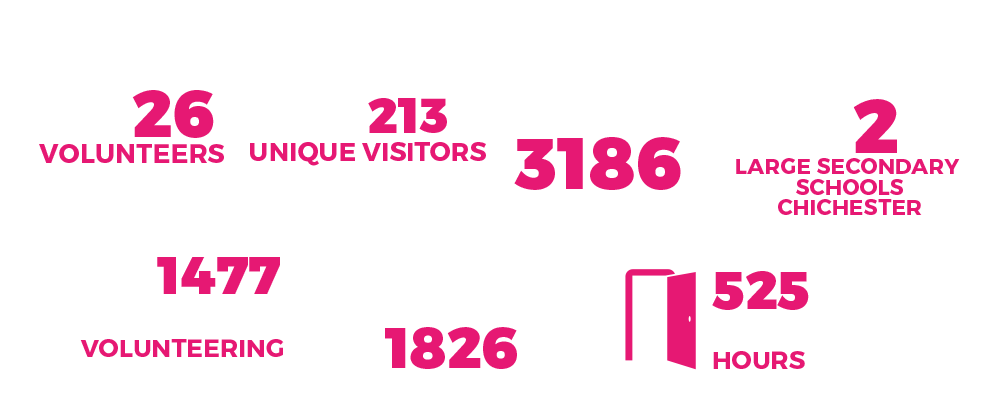 Statistics 2018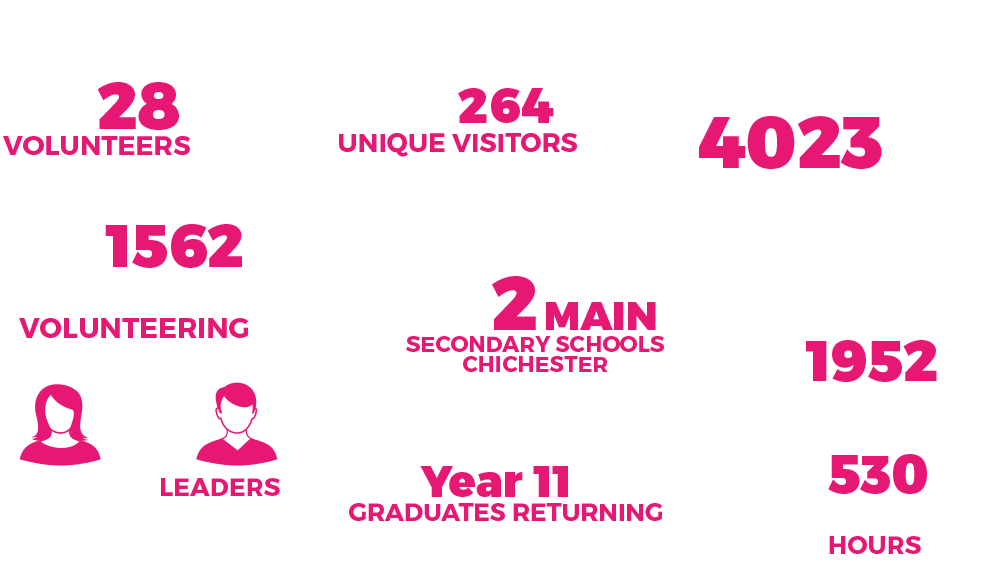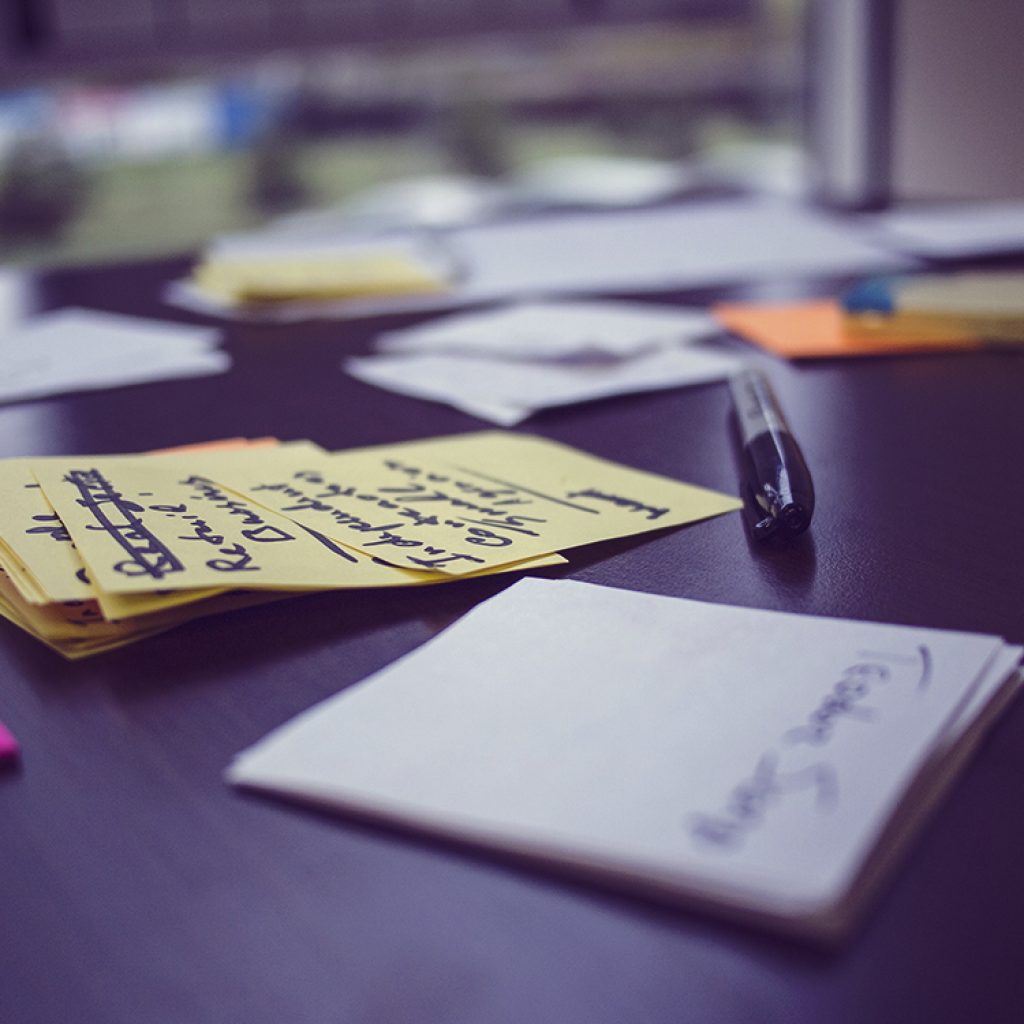 Our Relationship with Schools
Over the last four years, the Bell Tower has maintained a strong relationship with local schools. In particular The Chichester High School and Bishop Luffa School, where we have continued to run lunchtime activity drop-in sessions along with both group and one to one mentoring schemes.
Community Use
It has been our privilege to be able to offer free of charge usage of our unique facilities available in the drop-in centre outside the normal hours of operation. This has included weekly evening use by another local charity supporting young people carrying the burden of caring for disabled members of their family as well as occupation throughout the summer months by young people of the National Citizenship Award. We are greatly encouraged by new friendships and partnerships across the community and delighted to be of further service to young people in need.
Mayor's Charity
In May 2016, the Right Worshipful Mayor of Chichester, Councilor Peter Budge, chose the Bell Tower Drop-in and the Chichester Boys Club to be "The Mayor's Charities of the Year" for his second term in office. This has resulted in a number of fundraising and promotional events being held under the care and support of the Mayor and his staff. Being the Mayor's charity has helped us boost the profile of the Bell Tower and awareness in the city, while raising considerable funds for the project. These events have included street collections, charity auctions and themed receptions with the Mayor. During the two-year term of being Mayor's Charity we were able to raise a significantly large part of our annual operating costs and are so grateful to Peter and his team for this valuable support.
This funding stream is not anticipated to be available to the Bell Tower Drop-in moving forwards, and so must be replaced by new sources of funding.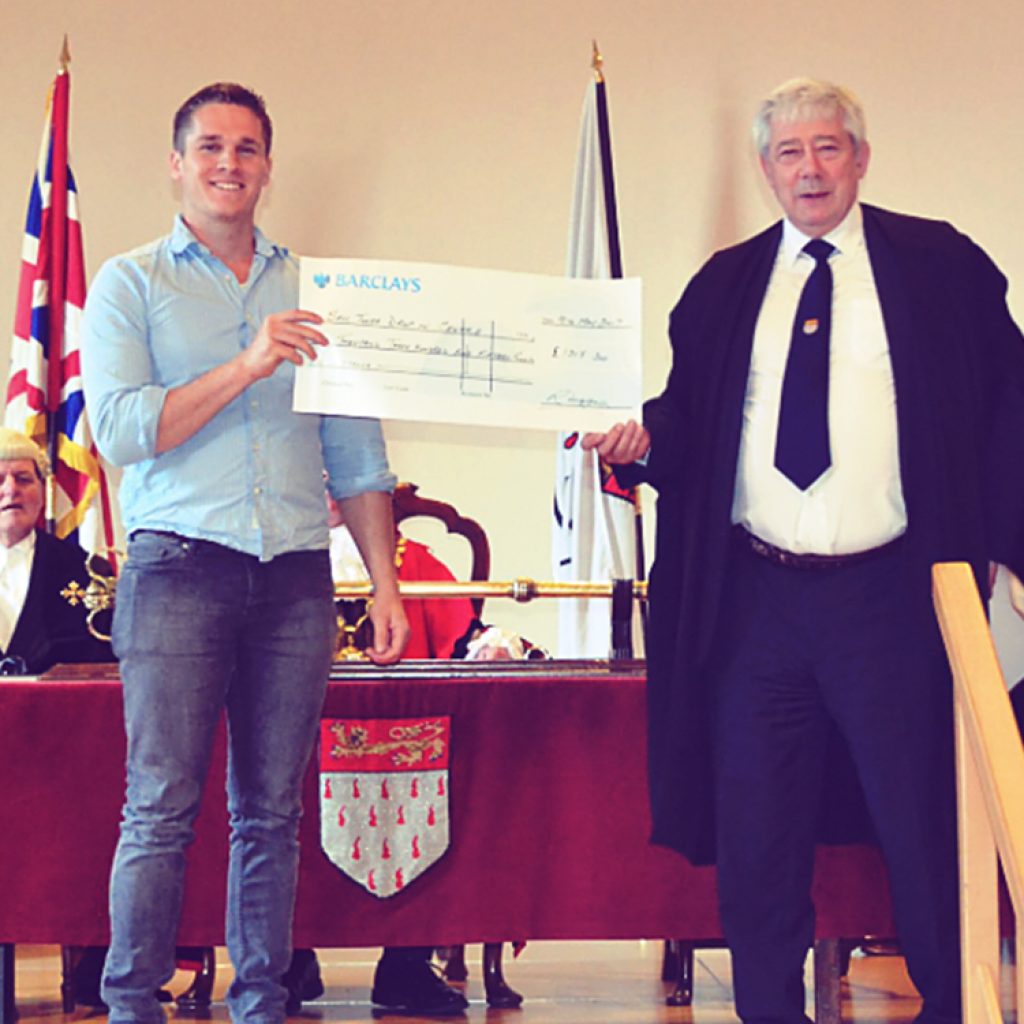 Volunteers
We have had a fantastic team of volunteers from different groups in the community. This year our team has been made up of people from the following areas:
We are always looking to recruit new enthusiastic team members to accommodate the growth of the Bell Tower. This year we have focused recruitment through local church news bulletins, college and university websites/fresher's fairs, presentations in different community forums and online via volunteer agencies. Most volunteers join us once a week, and all receive free DBS checks and safeguarding training.
If you would like to get involved and join our diverse team of volunteers, you can contact our team to find out more information on info@belltowerchi.uk.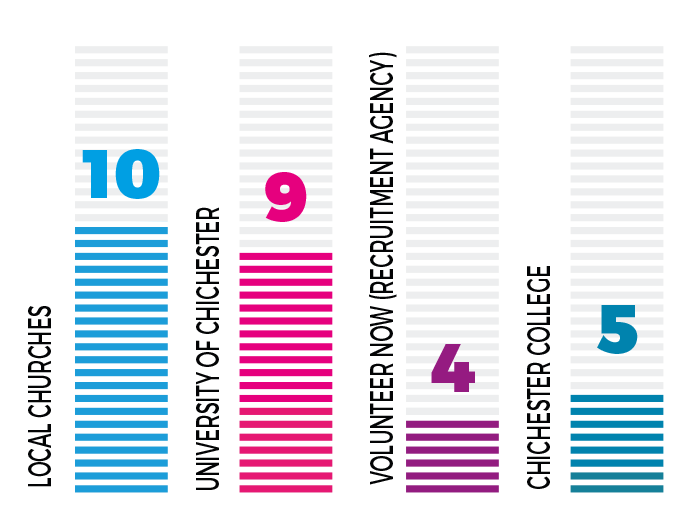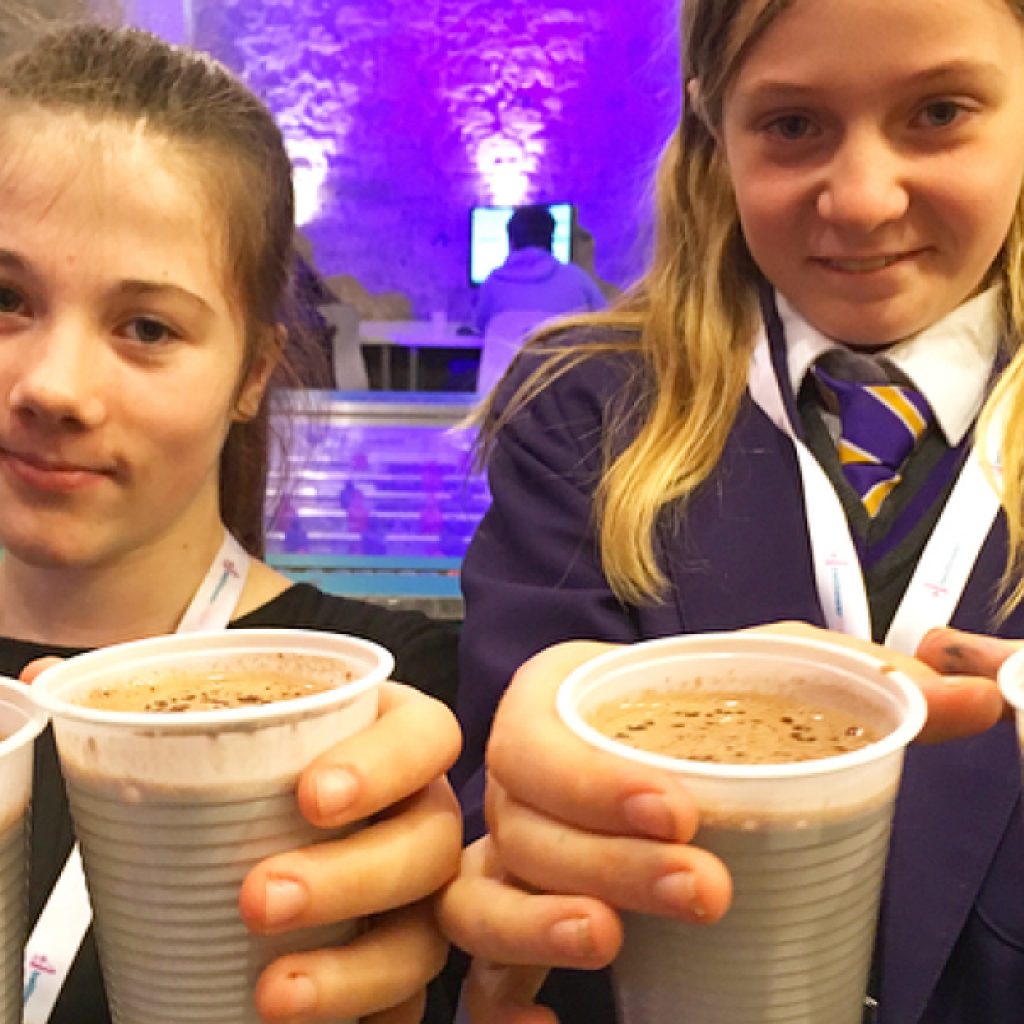 Young Leaders Programme
In October 2016 we launched a new initiative called the Young Leaders Program, an eight month long accredited course, where young people who regularly attend the Drop-In can apply join the volunteer team for one day each week, taking on a number of day-to-day responsibilities within the Bell Tower.
After a successful first year with five completing the programme, we are now well into year two with nine young leaders on board. Each day of the week now has different young leaders assigned to help run the session. The young leaders are scored out of 15 for each session, broken down in a number of areas including punctuality, use of clean and positive language and being a positive influence on those around them. They can then earn prizes and awards at the end of each term for a cumulative score of 80% or above. All of our young leaders earned awards upon completion of the first term!
The Young Leaders Program has been designed to develop young people in the areas of self-esteem, reliability, capability and social and leadership skills in order to create lasting change in their lives. We currently have individuals in very different situations on the programme, including a small number not currently attending school, which gives them an outlet to focus themselves on, as well as taking on new responsibilities.
A Green Power Bell Tower
We are extremely grateful to Dexam Kitchen Supply Ltd for funding through the Sussex Community Foundation to upgrade our ageing heating system to a renewable energy source. The Bell Tower now has an air source heat pump air conditioning unit, which heats the Drop-in five times more effectively, while using a fraction of the electricity previously needed!
Refurbishment
Due to a significant grant from The Dexam Trust, we have been able to refurbish the group activity area inside the Bell Tower. This has included modular lounge seating for sixteen young people, along with stow-able tables, a new smart television and a seven by three meter chalk board wall where young people can express creativity and each make their mark on our very own evolving community mural. This refurbishment has also enabled us to make better use of the space and engage with larger numbers of young people.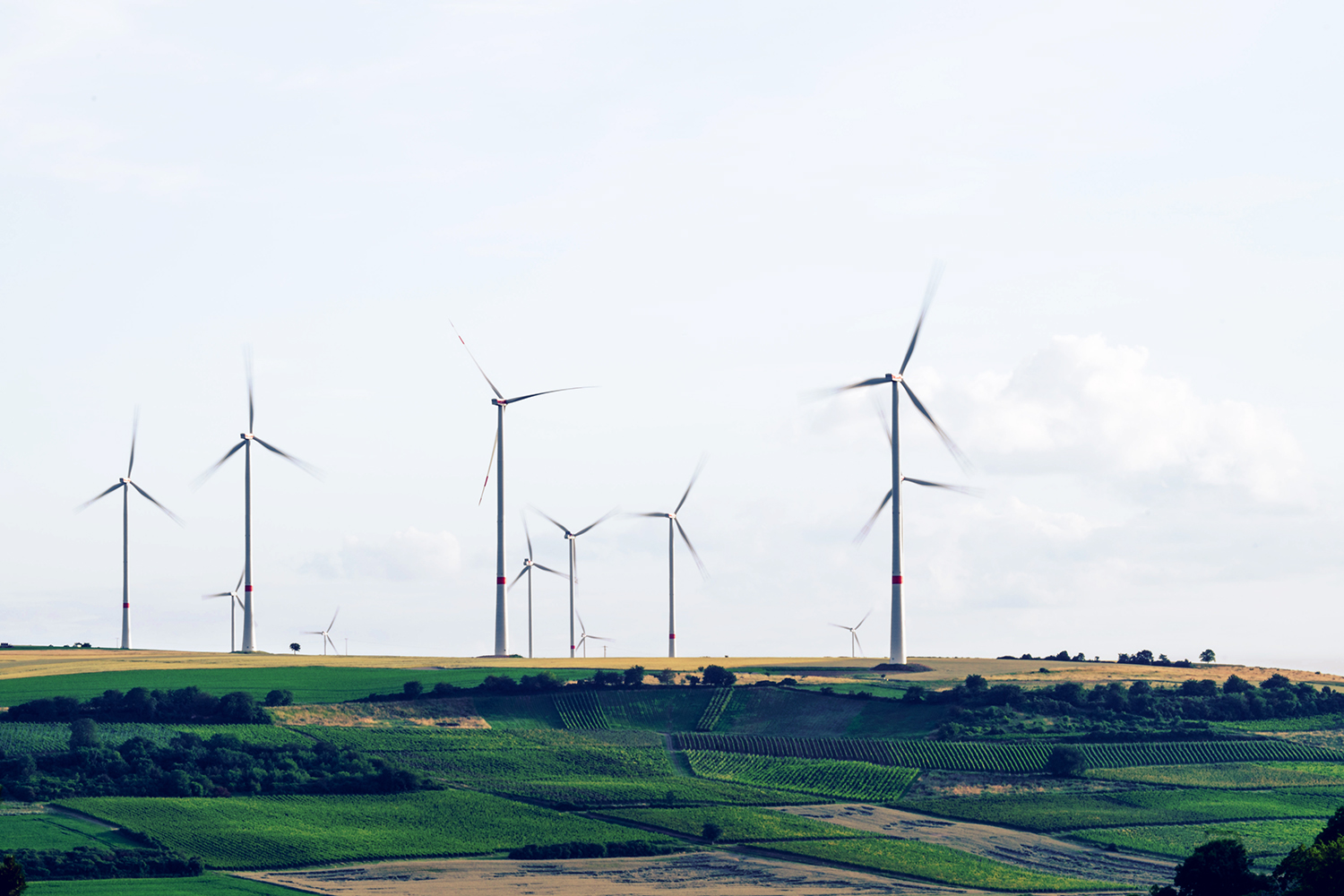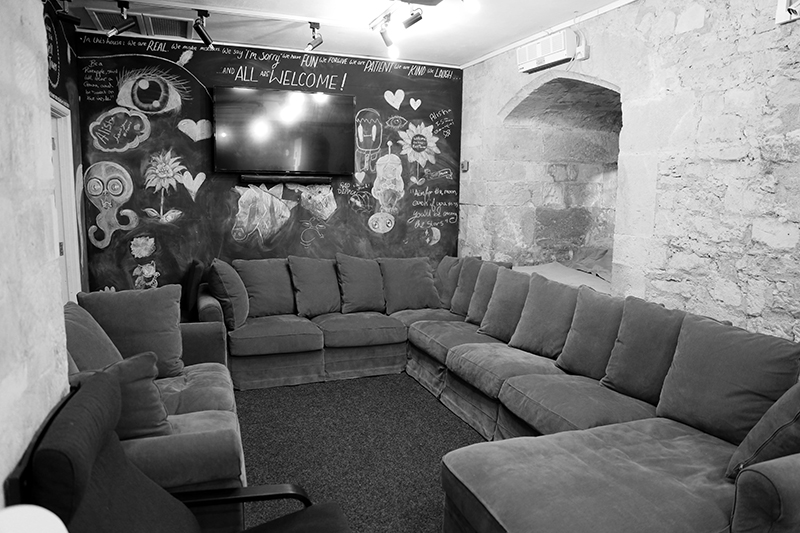 Financial Breakdown
The Bell Tower is able to function each year due to the generosity of individuals in the community, local churches, the University of Chichester, and grant making trusts.  Fundraising is an ongoing task, crucial to our long-term sustainability, and with new initiatives and increasing engagement, funding targets for the coming year have also increased.
The Bell Tower now costs approximately £22,000 per year to run.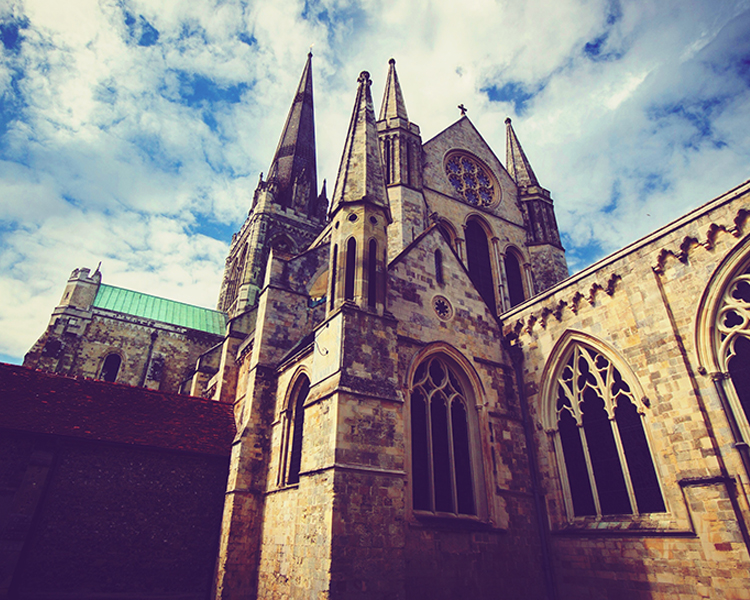 Final Thoughts
Thanks to the support from our local partnerships, including the Chichester Cathedral, University of Chichester and a number of local churches, the Bell Tower is now far more than just a growing project with an increasing number of young people attending. It has become a community hub where young people with real needs find care and support in an understanding supportive environment. The young person with learning and behavioural difficulties finds a place where they are encouraged and trusted with responsibilities in a safe environment on the Young Leaders Programme and can learn and develop skills in their own way. The individual facing an unstable and challenging home life can relax in a consistent, peaceful environment, where a listening ear is always available and their well being is protected. The young people facing increasing cultural pressures in relationships can speak freely and honestly with people who care in a non-judgmental, safe environment.
Testimonials
I come to the Bell Tower when I am in a bad mood or when I am not feeling myself because there is always someone here. I also come when I'm in a good mood and do feel myself because my friends and people I like are here. I feel the Bell Tower is somewhere people can discover themselves and make friends they wouldn't normally make.

YEAR 9

I love coming to the Bell Tower because it is a fun place where you can hang out with friends and use the free equipment. It's so fun with Carmela (one of our volunteers) because her jokes will crack you up!

YEAR 8

I come to the Bell Tower to hang out with friends. I love all the staff and we do loads of stuff like watch TV, play board games, chat and have fun. I am a young leader and I love it because it's awesome!

YEAR 8

I like coming to the Bell Tower because you can hangout with friends, do your homework and the staff are really nice! I've learned how to knit and love to play board games and Rummicub. It's the best place I like to be after school. I LOVE the Bell Tower!

YEAR 7

I like the Bell Tower because it is fun and I can see my friends. If it wasn't here, I don't know what I would do and would have nowhere to go. I help on the young leaders programme where I help set up as I am always here early, and keep things clean when we are open.

YEAR 8

I come to the Bell Tower because my friends are here and there is a place for everyone. As a young leader, I make people hot chocolate, I work behind the counter serving snacks and normally hoover the floor at the end. There is so much to do at the Bell Tower and I come here every day after school!

YEAR 8

I love working at the Bell Tower as a young leader, because I like helping and it's good experience to get to see how some people work in big shops. This is my second year on the Young Leader's Programme and I feel like if I ever work in a shop I have learned lots of tips and skills like how to give change and organise stock and stuff. I like it when all my friends are here and we can just chill when I'm not working.

YEAR 9

I love the Bell Tower because all of the people who come here are really friendly. My favourite thing is to play games all together! The place I used to live in Ireland had a youth club that I used to go to and I was really excited when I heard there was one in Chichester that I could go to everyday!

YEAR 7