'New Venue for our Youth Drop-in'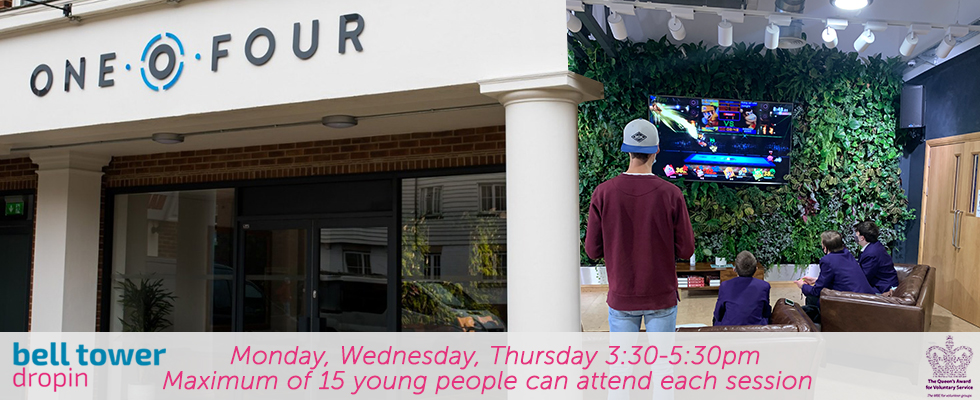 New (COVID secure) venue – Young people will need to wear masks and sanitise their hands regularly when they are with us.
'Supporting young people in the Chichester Area'
Who we are?
We are a local youth drop-in, open every day after school, during term time. The Bell tower is open from 3pm to 5:30pm and is free of charge to all young people of secondary school age. Young people can engage in a wide range of activities while attending.
Who Benefits…
A place for young people of secondary school age to engage with their friends after school in a safe environment.
Our Journey…
The Bell Tower was launched in 2014 with the vision of creating a safe place for young people, after extensive reasearch carried out in local schools showed a lack in daily after school youth provision since previous government funded youth centres had to close due to cutbacks to the statutory youth services.
Donate…
The project is funded entirely by grant giving trusts and individual donations and functions through a large team of local volunteers from across the community.
I come to the Bell Tower when I am in a bad mood or when I am not feeling myself because there is always someone here. I also come when I'm in a good mood and do feel myself because my friends and people I like are here. I feel the Bell Tower is somewhere people can discover themselves and make friends they wouldn't normally make.

YEAR 9

I love coming to the Bell Tower because it is a fun place where you can hang out with friends and use the free equipment. It's so fun with Carmela (one of our volunteers) because her jokes will crack you up!

YEAR 8

I come to the Bell Tower to hang out with friends. I love all the staff and we do loads of stuff like watch TV, play board games, chat and have fun. I am a young leader and I love it because it's awesome!

YEAR 8

I like coming to the Bell Tower because you can hangout with friends, do your homework and the staff are really nice! I've learned how to knit and love to play board games and Rummicub. It's the best place I like to be after school. I LOVE the Bell Tower!

YEAR 7

I like the Bell Tower because it is fun and I can see my friends. If it wasn't here, I don't know what I would do and would have nowhere to go. I help on the young leaders programme where I help set up as I am always here early, and keep things clean when we are open.

YEAR 8

I come to the Bell Tower because my friends are here and there is a place for everyone. As a young leader, I make people hot chocolate, I work behind the counter serving snacks and normally hoover the floor at the end. There is so much to do at the Bell Tower and I come here every day after school!

YEAR 8

I love working at the Bell Tower as a young leader, because I like helping and it's good experience to get to see how some people work in big shops. This is my second year on the Young Leader's Programme and I feel like if I ever work in a shop I have learned lots of tips and skills like how to give change and organise stock and stuff. I like it when all my friends are here and we can just chill when I'm not working.

YEAR 9

I love the Bell Tower because all of the people who come here are really friendly. My favourite thing is to play games all together! The place I used to live in Ireland had a youth club that I used to go to and I was really excited when I heard there was one in Chichester that I could go to everyday!

YEAR 7